Please use the following sample social media messages to be a big voice for babies on Twitter and Facebook! To download the sharegraphics, right click and select "save image." Remember to always use the hashtag #ThinkBabiesNC to help amplify your messages.
Child Care Assistance for Working Families
Families rely on our #EarlyEd system in order to keep working, and our state's economy does too. Working families need #ChildCare subsidy assistance to help them pay for child care and be able to work. #ThinkBabiesNC
Child care subsidies help working families pay for #ChildCare and provide children with access to high-quality early education. Children's development and learning in the first few years lay the foundation for all of the years that follow. #ThinkBabiesNC
More than 1/2 of children under 3 live in low-income families and 100,000+ babies are eligible for #ChildCare subsidies, but less than 1 in 5 receive services. We must increase funding to serve more of our youngest children and their families. #ThinkBabiesNC
High-quality #ChildCare is unaffordable for most working families. The annual cost of infant care in NC is more expensive than a year of public college tuition. #ThinkBabiesNC
High-quality #ChildCare is out of reach for too many working families. Low-income families spend about 1/3 of their income on child care for 1 baby. #ThinkBabiesNC
Infants and toddlers wait longer for child care subsidy assistance, missing crucial developmental opportunities. More than half of young children on the child care subsidy wait list are below age 3. #ThinkBabiesNC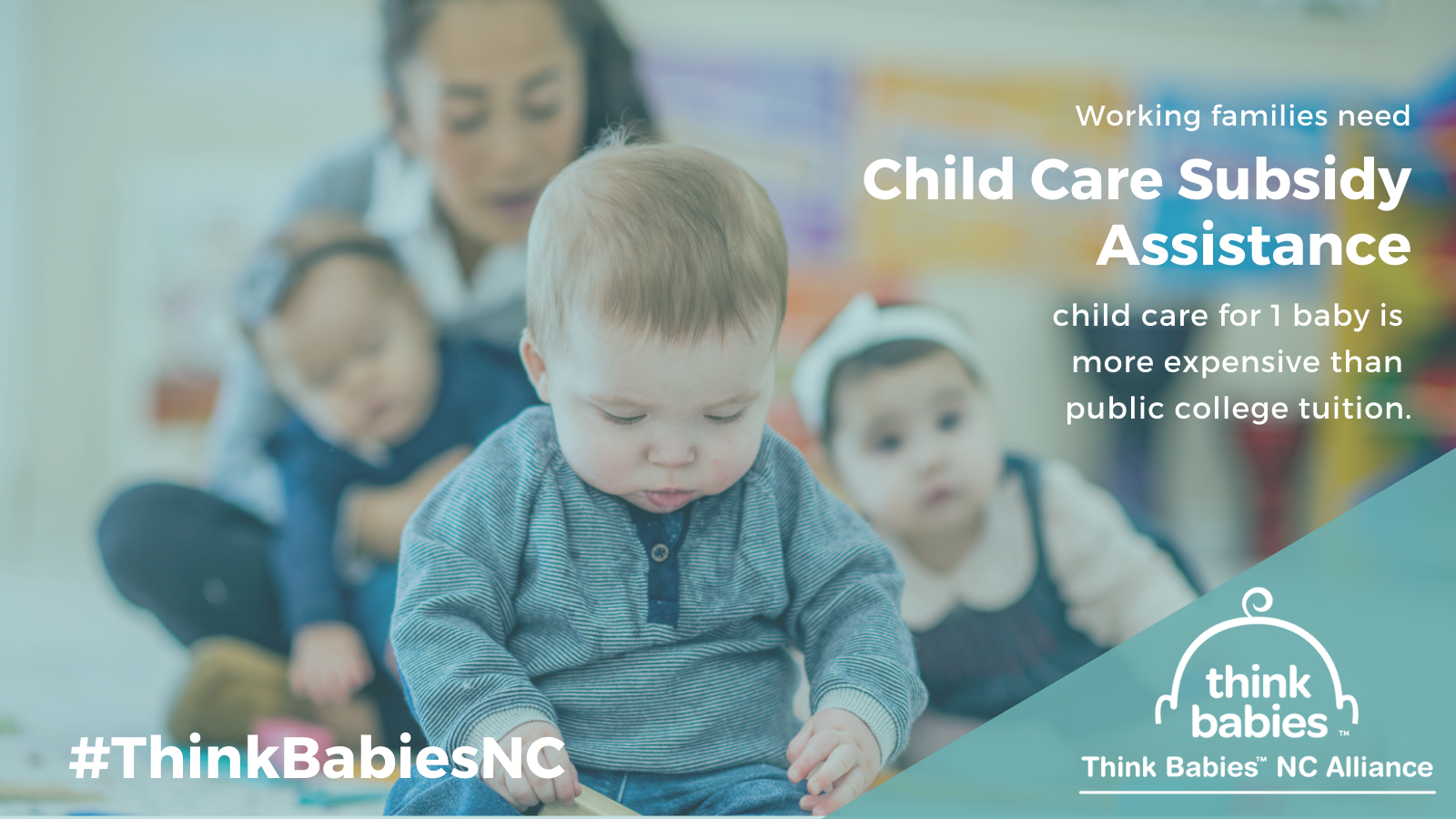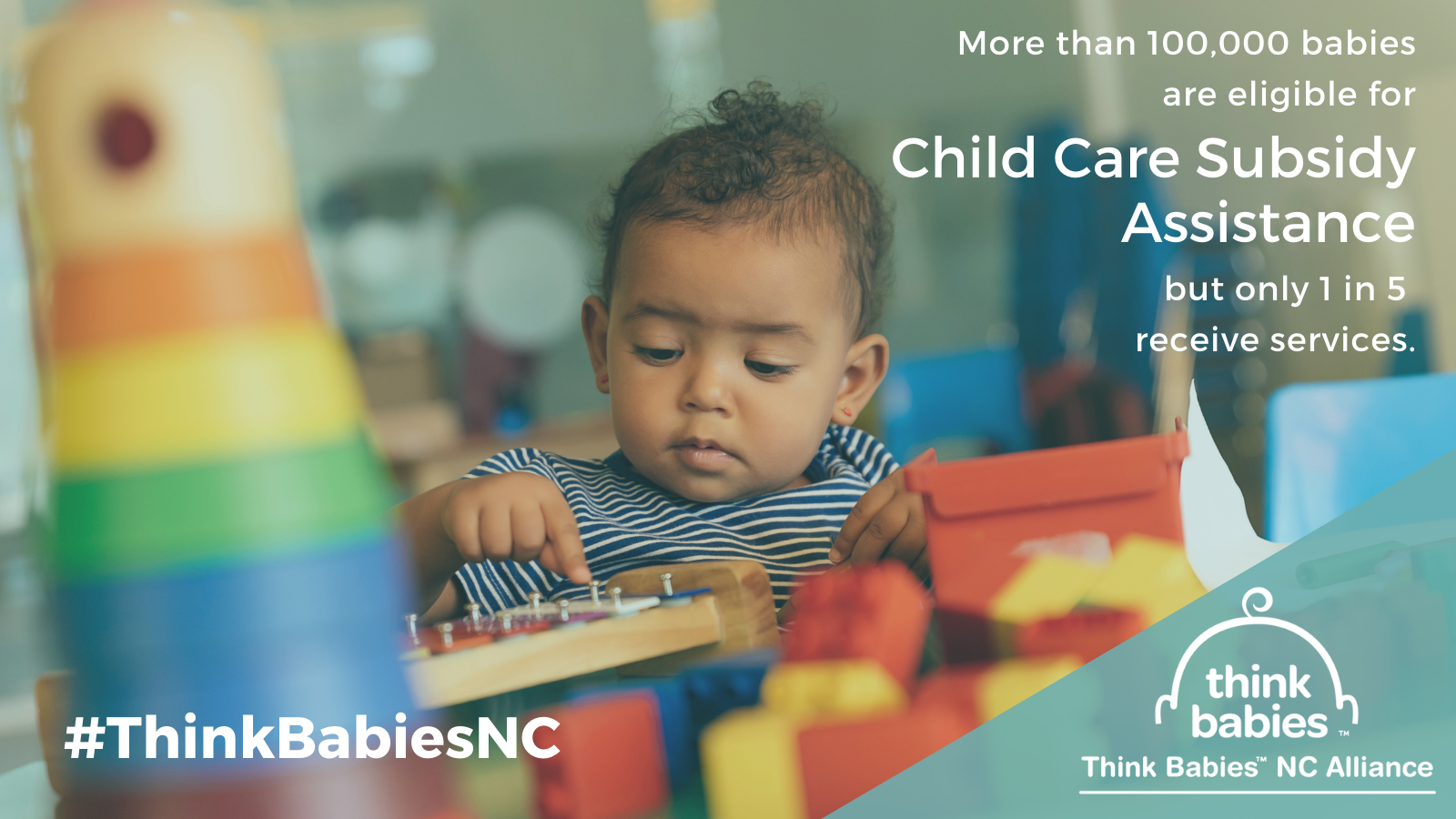 Click here to download these images for use on Facebook.
Child Care Availability
More than 5 families with babies are competing for every 1 available licensed #childcare space in NC. It's time to expand high-quality infant-toddler programs across the state. #ThinkBabiesNC
Infants and toddlers need high-quality child care to support their healthy development, but all 100 counties in NC qualify as a child care desert. #ThinkBabiesNC
We need a statewide solution to address the acute shortage of infant-toddler care. Less than 20% of the infant-toddler population can be served in the existing supply of licensed programs. #ThinkBabiesNC
The #childcare shortage in NC creates a crisis for working families who need high-quality care for their babies in order to maintain employment and financially support their families. #ThinkBabiesNC
High-quality programs are especially scarce in rural counties. A third of all counties in NC have less than 5 high-quality programs serving babies, and 2 counties don't have a single one. #ThinkBabiesNC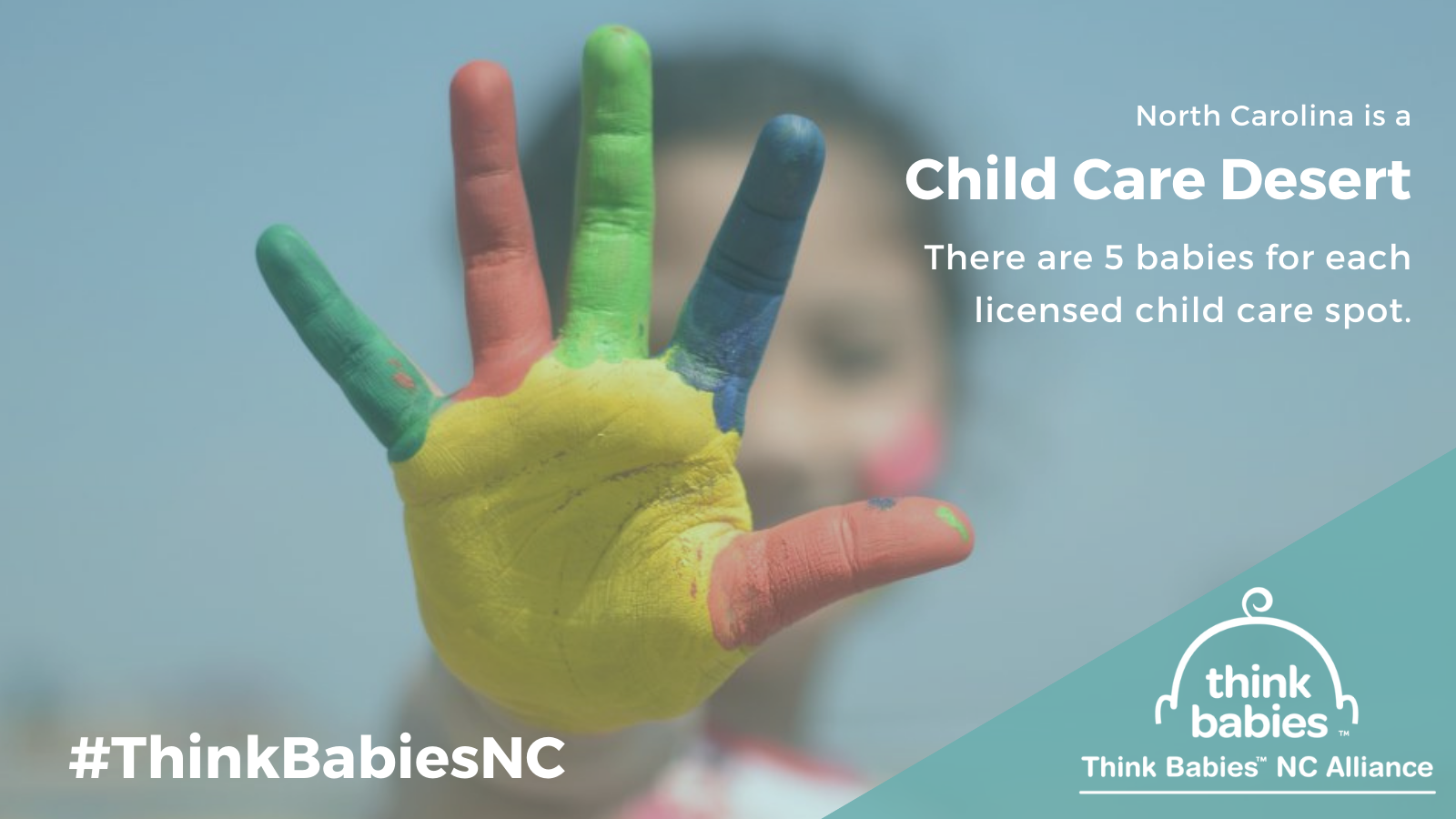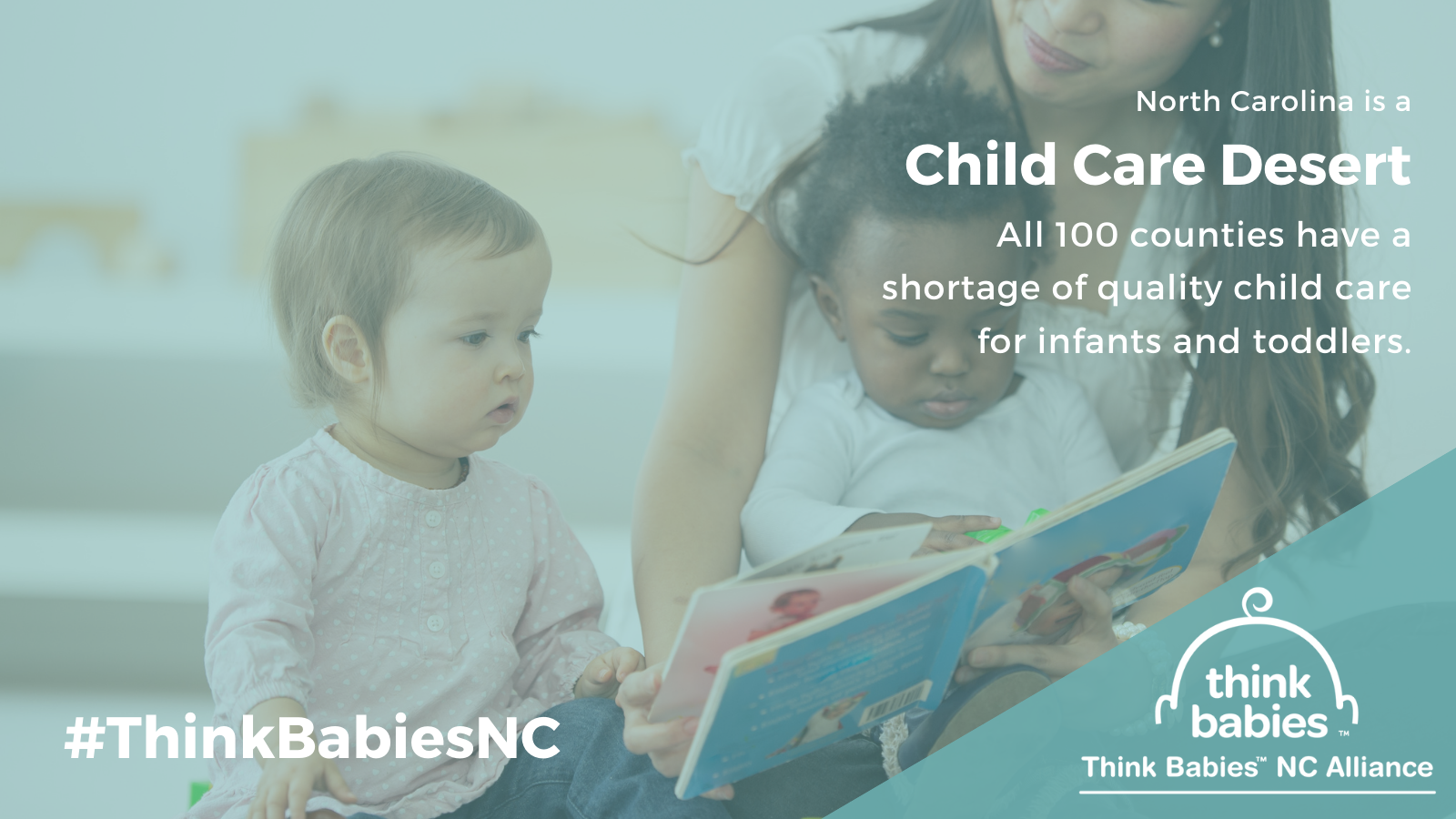 Click here to download these images for use on Facebook.
Workforce Compensation and Education
Babies learn through their relationships with the adults in their lives, including their #EarlyEd teachers. Teachers must have the knowledge, skills, and resources to support babies' healthy development and learning. #ThinkBabiesNC
#ChildCare teachers are risking their own health to care for children during #COVID19. Yet many have no health insurance and earn just $11/hour. It's time to support the workforce behind the workforce. #ThinkBabiesNC #CloseTheGapNC #WorthyWages
Infant-toddler teachers are woefully underpaid, earning an average of $11/hour. Almost ½ of all infant-toddler teachers have relied on some form of public assistance. Worthy work deserves #WorthyWages. #ThinkBabiesNC
Infant-toddler teachers earn the least of all #ece teachers. Infant-toddler teachers are paid $4/hour less than teachers working with 3-yr-olds, even with a degree. #ThinkBabiesNC
We have a workforce crisis. #EarlyEd is the lowest paid field of almost all other occupations, enrollment in community college #ECE programs has dropped, & 1 in 5  teachers predicts they will leave the field in 3 years. #ThinkBabiesNC