Strolling Thunder: A Think Babies™ NC Virtual Advocacy Day!
June 4, 2021

Register now for the 4th Annual Strolling Thunder and Think Babies™ NC Advocacy Day to tell state policymakers it's time to push babies to the top of their priority list! Join us for this fun and interactive virtual event and a day of activities to help you be a big voice for babies.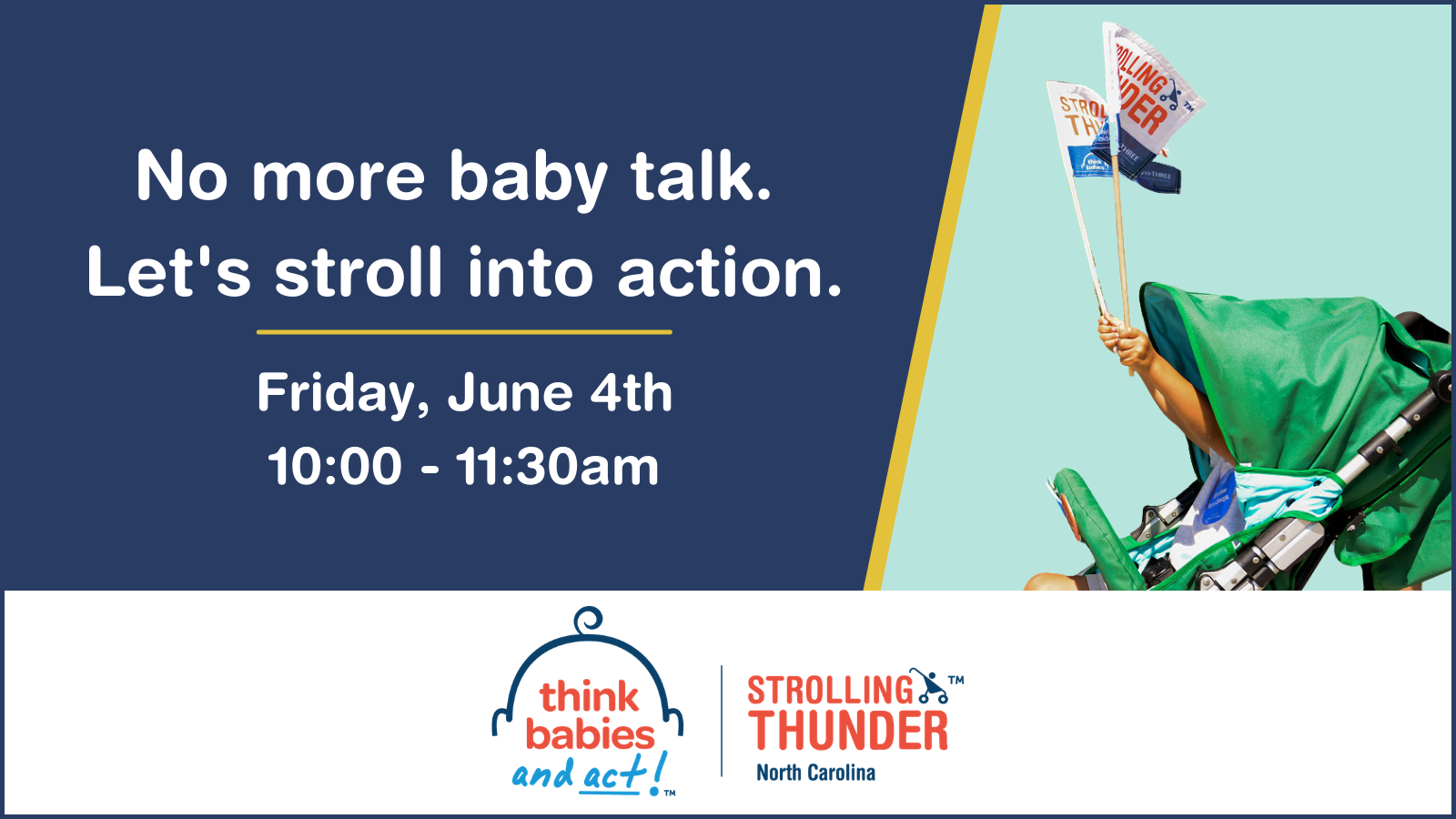 We wish we could be together in Raleigh to see your smiling faces and decorated strollers, but we look forward to seeing you all virtually and keeping the spirit of Strolling Thunder going strong! As a special support for parents, the first 100 parents of infants and toddlers who register and attend this event will receive a gift card for their participation.
At this event, you'll have a chance to hear directly from state legislators about the bills and issues they're supporting this legislative session and how they will impact babies and their families. Parents from across the state will also share about their personal experiences with paid leave, health care, home visiting, and child care. We also want to hear from you and hope you'll share your story, priorities, and ideas throughout the event as we Think Babies together. Then, we'll help you take your advocacy skills to the next level with workshops designed to help you push for change and take action.
Strolling Thunder Agenda
Friday, June 4th from 10:00 – 11:30 am
10:00 – Welcome and Introductions
10:05 – Legislative Panel
10:25 – Parent Panel
10:45 – Comments and Discussion
10:55 – Call to action!
11:00 – Advocacy Workshops (select one during registration)
Advocacy Workshop Descriptions
1. Storytelling through Digital Media: Everyone has a story to tell! Learn how to craft compelling messages, develop your story, and then share it through videos, pictures and social media.
2. Successful Meetings with State Legislators: Ready to set up a meeting with state legislators to share your story and your ideas about how they can make babies a top priority? Learn how to build relationships and have great meetings with state legislators at home, in Raleigh, or virtually.
3. Creative Ways for Communities to Think Babies: Hear from local Think Babies™ NC Community Partners about some of their creative public awareness strategies – from billboards, to videos, to events, to engaging local media – and get ideas for how your organization and community can put a spotlight on babies and their families.
Come stroll with us! Tell North Carolina policymakers that it's time to Think Babies and Act and build a better future for our state's babies and their families.