Enough is enough. It's time to fight for worthy wages for the early education workforce.
By Michele Rivest, Senior Campaign Director, NC Early Education Coalition
March 5, 2021
Yesterday, the NC General Assembly passed H196/S172, a bill to allocate $1.7 billion in federal COVID-19 relief funds, including approximately $336 million for child care through the Child Care and Development Block Grant. While the bill allows for the continuation of several of the critical emergency initiatives enacted last spring – including operational grants for child care programs and waiving parent co-pay fees for families receiving subsidies – it also prohibits the use of these funds for bonus payments/hazard pay for child care teachers and staff.
To say we are disappointed would be a gross understatement. We have worked tirelessly during this legislative session to urge lawmakers to reinstate these bonuses and recognize the need to compensate child care teachers for the important work they do.
Early educators have been on the frontlines of this crisis from day one, because they are the workforce behind the workforce.
Child care teachers, overwhelmingly women and primarily women of color, have remained in the classroom this whole time earning unlivable wages and risking their own health to care for the children of working families. All through the pandemic, policymakers deemed child care teachers "essential workers" yet the child care workforce remains underpaid and undervalued for the important work they do to support our young children's healthy development and early learning. This action to deny the early childhood workforce bonus pay during these times is unexplainable.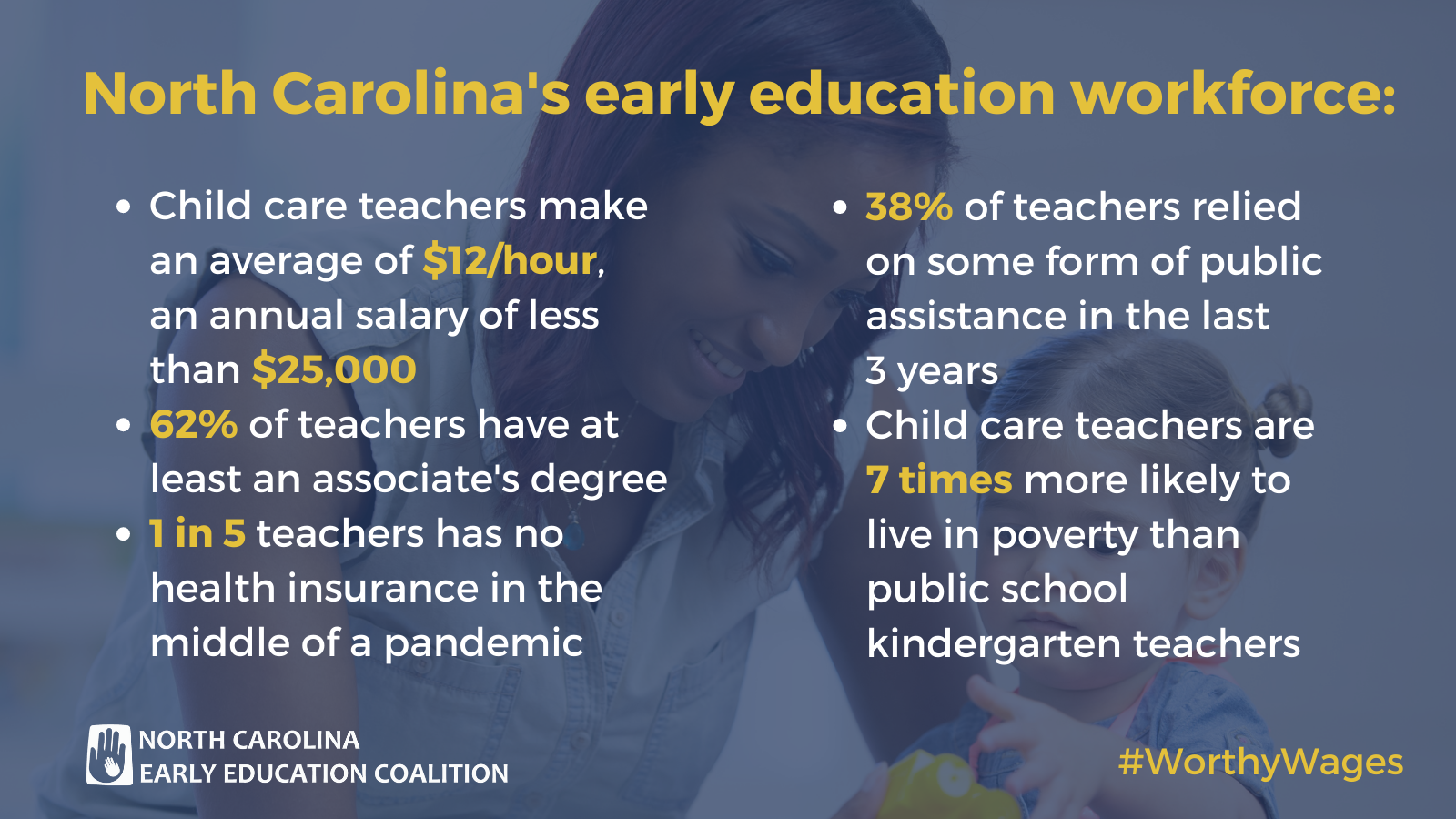 Bonus payments, or more accurately, hazard pay, have been a lifeline for the early childhood workforce during the COVID crisis. Allowing these federal funds to be used for bonus payments would have helped to retain qualified child care teachers and staff, stabilize the current workforce, and recruit additional staff that are needed to sustain child care programs as parents return to work and program enrollment increases. The state's economic recovery and future prosperity depend on a strong early childhood workforce and child care system. Without it, North Carolina will not be able to get back to work.
Now it's up to us to make sure policymakers recognize the value of the early childhood workforce and provide them with adequate pay and benefits. We need you to join us in this fight!
We have just launched the 2021 Worthy Wages Campaign, because early educators deserve worthy wages for the worthy work they do. We must make it clear that we simply cannot continue to build our early education system on the backs of child care teachers working for low wages and no benefits.
It's time for everyone to stand up and speak out – please use the button below to sign up to be part of the Worthy Wages Campaign! In the weeks ahead, we'll work together to build a movement to support the early childhood workforce.