Make a Donation to Support the NC Early Education Coalition
Since 1990, the Coalition has led the charge in working to ensure that all children in North Carolina have access to high-quality early care and learning experiences. Together with the help of advocates and supporters, we have been successful in achieving significant policies and programs to support North Carolina's young children, their families, and their educators.
We need your help to continue our work to win new victories for young children, their families, and early care and education. Every contribution, no matter how small, makes a big difference. Make a donation now!
Your contribution will support work that is critical to making progress on issues impacting our state's youngest children: thousands of emails and calls to legislators through our action center; countless conversations with policymakers from Raleigh to D.C.; a full-time lobbyist working on early childhood issues; research and policy analysis on key issues; growing and supporting a strong advocacy network across the state; and collaboration with national and state early childhood organizations to advance policies to support young children and their families. None of that can happen without your support. Young children and families depend on us to be their champion. Our work depends on you.
An Urgent Need – Support our Worthy Wages Campaign!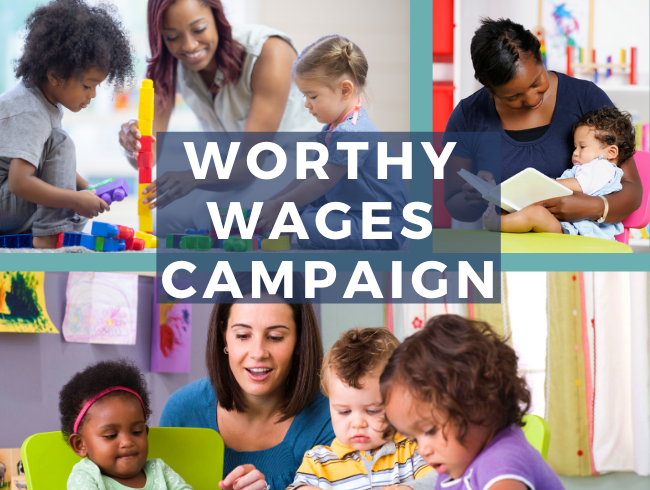 COVID-19 has opened everyone's eyes to the fact that child care is essential – for working families, children's healthy development, and North Carolina's economic prosperity. At the heart of our child care system are the early educators caring for our state's young children, which is why increasing compensation for the early childhood workforce is one of our top priorities.
Throughout the last several months, we have heard countless stories from the early education heroes on the frontlines of the COVID-19 crisis – stories of worry and fear, but also of resilience and dedication to the children and families they serve.
Early educators are the workforce behind the workforce. Child care teachers and staff continue to put their own health at risk to care for children every day during this public health emergency. But the teachers responsible for our young children's healthy development are woefully underpaid for the important work they do. Nearly half rely on some form of public assistance due to their low wages, and 1 out of 5 have no health insurance in the middle of a pandemic. It's time for policymakers to recognize the early childhood workforce for their essential contribution to our state's future wellbeing and recovery from this crisis.
North Carolina's early childhood workforce is facing unprecedented challenges right now. With your support and partnership, we know that we will be able to tackle the hard work ahead of us and make a difference for early educators and the children and families they serve. Please stand up for North Carolina's early childhood workforce by using the form below to make a donation to our Worthy Wages Campaign!
Thank you for being a partner with us in this important work, and for your commitment to North Carolina's early education system.
The NC Early Education Coalition is a registered 501(c)(3) nonprofit organization; your contribution is 100% tax deductible. 

Powered by Wild Apricot Membership Software
If you would prefer to make a donation by check, please make your check out to the NC Early Education Coalition and mail to P.O. Box 4292, Chapel Hill, NC 27514.