By Michele Rivest, Policy Director, NC Early Education Coalition
April 21, 2020
As some in our state begin to call for North Carolina to reopen, one thing is certain: North Carolina can't go back to work if our child care industry doesn't have the financial support it needs to reopen.
Families rely on our early education system in order to keep working, and our state's economy does, too. Child care teachers are the workforce behind the workforce. The COVID-19 crisis underscores just how essential child care is to the ability of the state's health care, emergency responders and other essential workers to keep our communities safe, while child care staff care for their children, often at risk to their own health and safety.
Even before COVID-19 hit, many North Carolina communities faced a significant child care shortage. North Carolina is known as a "child care desert," where the demand for child care exceeds supply. Nearly half of all people in the state live in a child care desert, an area where there are more than three families competing for every available child care space. Rural counties have even greater shortages of child care, and quality infant-toddler child care is hard to find in all areas of the state.
As a result of the COVID-19 crisis, half of all child care programs in the state are now closed. Extended closures will put many of them out of business permanently, exacerbating the widespread child care deserts that exist in the state now. In a study conducted by the National Association for the Education of Young Children (NAEYC), more than one-third of all North Carolina child care programs reported that they will not survive closing for more than two weeks.
Child care program closure is widespread in every county across the state, from a low of 8% in Person County to a high of 100% in Cherokee County. In 43 counties, more than 50% of child are programs have closed. The accompanying map shows shortages throughout the state: for example, Forsyth County (28%), Wake County (30%), Cleveland County (39%) Mecklenburg County (46% ), New Hanover County (50%), Mitchell County (67% ), Rockingham County (69%), and Dare County (74%).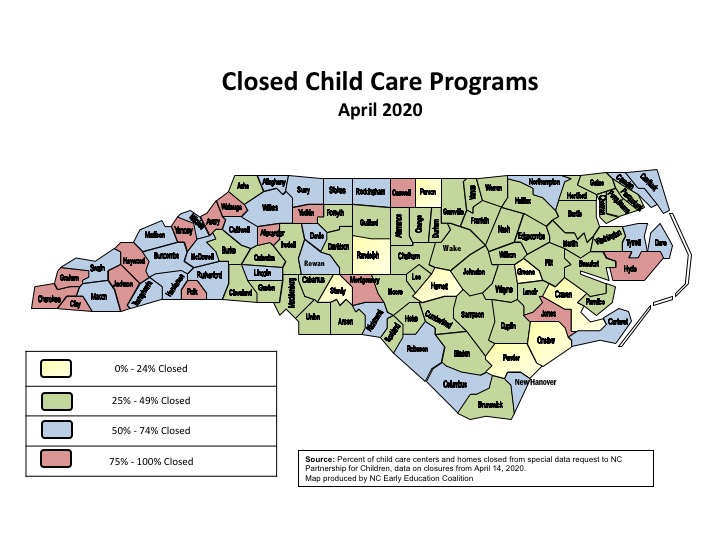 The bottom line is that if child care programs don't receive the financial support they need to reopen, it will make it incredibly hard for North Carolina's families to go back to work when this crisis is over.
What will it take to reopen child care so that we can jump start North Carolina's economy?
First, we have to recognize what this crisis has made so painfully clear – child care is essential to our state's economy and the ability of working families to go to work. Yet, child care programs were already operating on a shoestring, even in a strong economy.
Second, we need to make significant investments in the child care industry through grants and loans that bolster child care programs' ability to meet payroll and fixed operating costs so that they can reopen for business.
Third, we must find the will to pay child care teachers for the important work they do supporting young children's healthy development and learning. North Carolina is paying child care staff bonus wages during the COVID-19 crisis, and we must find a way to continue to supplement their meager salaries and pay them a living wage on par with the salaries paid to kindergarten teachers. Otherwise, there is no reason to imagine that the thousands of child care teachers and staff who have been furloughed during the crisis will be able to return to their previous place of employment.
Last, we must give more support to parents, especially low-income parents, by providing access to child care subsidies and waiving their co-payment fees as they too begin to rebuild their own economic security. Child care was not affordable for far too many families before the crisis, and it will certainly be beyond reach for many more families returning to work in retail, restaurants, entertainment and other small businesses across the state once this is over.
Albert Einstein once said, "In the midst of every crisis, lies great opportunity." We must not let anyone forget what the COVID-19 crisis has so clearly illustrated – child care is essential. We must seize the opportunity presented by this crisis to rebuild a better early childhood education system. We know how to do this, and now is the time to do it, for the sake of North Carolina's children, families, and our own future economic prosperity.
Click here for the latest COVID-19 information and resources, as well as ways you can take action to support early education during this crisis.